Best Punta Cana Beaches
"...which are your favorite Punta Cana Beaches?"

Thirty miles of sparkling white sand and coconut trees, no wonder Punta Cana beaches are known to be as one of the best and most beautiful beaches in the Caribbean and in the world. With clear, warm turquoise waters and beautiful weather throughout the year, this tropical Caribbean Island is a real paradise for many tourists and local people.
Located on the eastern tip of the Dominican Republic, it has become one of the most popular vacation destinations in the world.
There are several beaches in this area but the most important and main are:
Located north : Uvero Alto, Macao Beach, Arena Gorda, Bávaro Beach and El Cortecito.
Located south: Cabeza de Toro, Cabo Engaño, Punta Cana and Juanillo also known as Cap Cana.
Most of this areas are filled with magnificent all inclusive resorts and are within walking distance of the beach.
The largest place with more than 100 resorts and hotels is Bavaro, extends from Cabeza de Toro to Macao Beach.
All Punta Cana beaches offer many water sports. Whether you like kayaking, parasailing, glass-bottom boat rides,banana rides, water skiing…or if you are willing to try scuba diving or snorkeling, which are the most popular activities among tourists, these beaches are the right place for you.
You'll simply never get bored here!
So let's go…..and don't forget to put sunscreen on because sun here is very strong but it's true, winds do make the hottest days more bearable.
---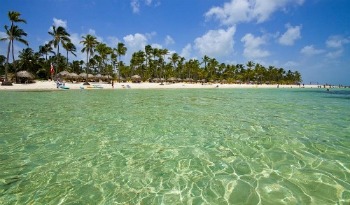 Located north of this beautiful Caribbean Island, Bavaro Beach is considered as one of ten best beaches in the world!
---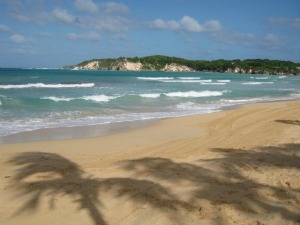 Macao Beach was declared by UNESCO as one of the
best beaches in the Caribbean for its fine sand and beautiful palm trees.
---
Cabeza de Toro Beach: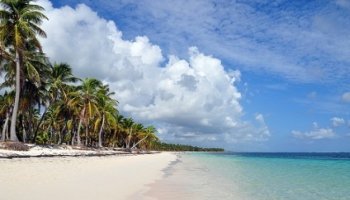 Photo:creative commons flickr-bogdix
Playa Cabeza de Toro is the perfect place if you want to be surrounded by the natural beutiful forests and wildlife of Punta Cana. The beach offers plenty of space to set up camp on its white-sand and if you like you can take a horseback riding excursion through the forests at the Natura Park Eco-Resort.
---
Arena Gorda Beach:
Also known as the Fat Sand Beach because of its wide sand beach that slopes gently down to the sea. Shallow water has this beautiful blue color and many people say this beach it's perfect for kids.
---
El Cortesito Beach:
Like many others, it is known as one of best Punta Cana beaches. It is close to a tiny village.
---
Uvero Alto Beach:
Uvero Alto Punta Cana is not a well-known beach yet but recent rise in visitors and new resorts might change that soon.
Located on the white-sand beach with swaying palm trees and coconuts, this Punta Cana beach offers many activities like windsurfing, sailing, kayaking and has the perfect conditions for snorkeling. Many resorts offer free equipment for its guests. Area outside of the resorts and hotels is relatively undeveloped and with nowhere else to eat or shop, tourists particular, the buffets supplied in the hotels as part of the all-inclusive deals.
---
Playa Juanillo Beach also known as Cap Cana:
Cap Cana is home to the Punta Espada Golf Course, designed by Jack Nicklaus and operated by Troon Golf and is the most important tourist and real estate development in the Caribbean. There are many five star accommodations available for visitors and Cap Cana is known as an exclusive, luxurious tourism and real estate community.
---
Dominicus Beach:
The blue flag class beach was named one of the cleanest beaches in the Caribbean. Very popular for scuba divers because of its coral reef.
---
It is also worth to mention two Islands near Dominican Republic, Catalina Island ( Isla Catalina) and Saona Island (Isla Saona)
Catalina Island:
is a small tropical Island located few miles from the mainland and you can see it from La Romana. With only 9.6 square kilometers in size and many species of birds and tropical marine fish, this place is also Paradise Island.
This island is popular for cruises and one even owns a private beach here.

American R&B singer Aaliyah was killed in a plane crash on August 25, 2001, with her music crew. Many dedications to her have been made on this island and near the shore there is a sign listed to the ones who lost their lives in the crash.

"A beautiful singer who will be remembered many years after her death" in Chi-dominican.

Saona Island: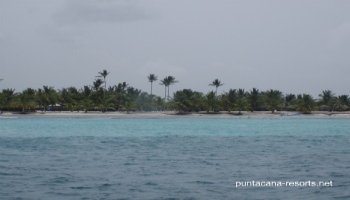 beautiful tropical Island located a short distance from the mainland on the south-east tip of the Dominican Republic, near La Altagracia Province. Fourteen miles long and more then three miles wide, Saona Island is a very popular area of the of Eastern National Park and it is a government protected nature reserve.
It is very popular among tourists who arrive with catamarans or organized excursions and it is also famous for magnificent beaches which many film-makers use in their movies. It was promoted amongst European visitors as the setting for the famous Bounty chocolate bar adverts.
---
What is your favorite Punta Cana Beach?
Share it here!
We all have our favorite spots where we enjoy and relax as much as we can. What's yours?
Your Favorite Punta Cana Beach
Click on the links below to see great contributions about Punta Cana Beaches. They were all written by other visitors to this page...

---
Return from Punta Cana Beaches to Punta Cana Resorts Home Page