Welcome to Punta Cana
Dominican Republic
Punta Cana, located in eastern province of La Altagracia, Dominican Republic, has become a popular tourist destination in recent years, The main reason are definitely beautiful beaches in the area, that are facing both Atlantic and Caribbean.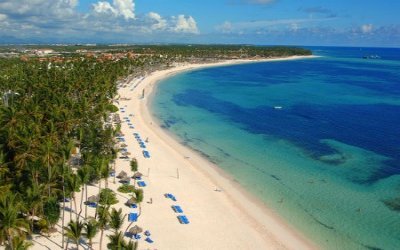 With an estimated 100.000,00 population and more than 60 miles of beautiful coastline, it has also become the best and most popular Caribbean resort destinations.
Here are some general information about this magnificent place:
- Airport: You will land at Punta Cana International Airport PUJ. It is the busiest airport in Dominican Republic with more than 3 million visitors each year. You will be required to pay 10,00 USD for 30 day- tourist card on arrival and 20,00 USD departure tax (usually included in your airfare) These taxes are paid only in cash.
- Currency: Dominican Peso….but US Dollars are accepted everywhere . Bring smaller bills, it is easier to handle with. 1 USD is about 36 pesos. Most resorts have ATM machines
- Climate: It has a tropical climate with temperatures around 80's degrees F. The best time to visit this place is between March and July but you'll have a nice weather no matter when you come. The wet season is usually from June to November and tropical hurricanes occur occasionally.
- Language: official language is Spanish but they also understand English.
- Electricity: 110 volts same as U.S.
- Vaccination: it is not required. But it is required to bring some stomach pills, just in case you have stomach problems….
- Drinking Water: it is not recommended to drink water from the tap, only bottled one. Even if you brush your teeth, use bottled water.
- Gambling and Golf: some resorts offer gambling, the minimun age is 18 and there are many Golf resorts available
- Car rental: you must be at least 25 years old to rent a car and it is highly recommended to purchase full insurance even if it's a little more expensive. Driving in Dominican Republic can be a difficult task, they don't have a highway and some roads are very old and dangerous. Car rentals are available for approximately $50 - $65 per day.
- Phone: when you are calling to D.R. use 00 1 809 + 7 numbers, if you are calling from D.R. use 011+country code+number without 0.
-Internet: most resorts have internet »rooms«, you can use it for additional charge or in some case they offer wireless internet. Check this information at the reception of the hotel.
- Tips: it is nice to tip employees at the resorts as they are working really hard, many of them 12 hours a day. Average tip is usually 2-3 dollars or 5%-10% of the bill at the restaurants.
- Bavaro: is the largest place with many hotels and resorts. In recent years it has became a center of services such as shopping malls, fine restaurants, banks, clinic, schools and much more...plus, Bavaro Beach is known to be one of the best and most beautiful beach in the Caribbean and in the world.
- Activities: you'll never be bored here. Resorts and hotels offer many different activities such as snorkeling, scuba diving, water skiing, kayaking, parasailing…or you can purchase an excursion to see some beautiful Punta Cana attractions.
Just remember to enjoy yourself and have fun......you're on Punta Cana Vacation! :)
Return from Punta Cana to Punta Cana Resorts Home Page