The magnificent Bavaro Beach
"named one of the top ten best beaches in the world by National Geographic!"

Bavaro Beach is located on the famous Costa del Coco (Punta Cana is called the Coconut Coast), and is known for its six miles of sandy white beaches and beautiful crystal waters.
It is considered as one of ten best beaches in the world!
With many water sports like jet-skiing, kayaking, sailing, parasailing, banana rides, water skiing, snorkeling, you can even learn scuba diving...you'll never get bored!
This beach is famous for snorkeling. Many tourists come from all over the world to dive in a beautiful coral reef. They all say it's well worth it.
This coral reef protects the beach from huge waves, creating a large natural swimming pool. You can find the best conditions for snorkeling with reefs on the south coast. That's way many resorts offer 4-hour trip to Buccaneer's Reef.
Swimming conditions are good because of this protection and many families with small children come here.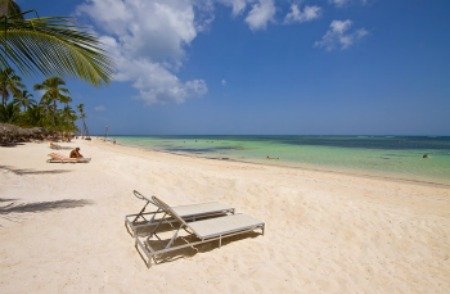 The coconut coast receives more than one million visitors a year and lovely beaches are not the only reason for that.
Let's not forget about magnificent all inclusive beach resorts.
There are many resorts in Bavaro and the largest and most notable is:
The Barcelo Bavaro Beach Resorts, all inclusive resort formed by four hotels, the Barcelo Bavaro Golf& Casino, Barcelo Bavaro Caribe, Barcelo Bavaro Palace and Barcelo Bavaro Beach & Convention Center, the biggest Convention Center of the Caribbean.
And yes...staying in one of these resorts, snorkeling equipment is usually for free:) I have to say that I love this beach!
There's so much to do here...whether you want to lie down on the beach and just relax with piña colada in your hand, or purchase an excursion in one of the resorts and visit many

Punta Cana attractions such as Manati Park, Punta Cana Jeep Safari, Saona Island and much more...
Believe me, if you're looking a place to relax and still have some fun, this beach it's worth visiting.
Don't forget the sun here is strong, please put a sunscreen. Winds tend to be misleading but they can help you get through the hottest days.
And for those planning to buy a property on this beautiful tropical Caribbean Island, which is a great investment since each year real estate bussiness is expending fast, remember Punta Cana Bavaro is the most important touristic area on the coast.

Return from Bavaro Beach to Punta Cana Beaches

Return from Bavaro Beach to Punta Cana Resorts Home Page