The "local" Macao Beach

Just 30 minutes drive from most resorts, you arrive to an isolated beautiful Macao Beach, located near a small fishing village called El Macao.
Visitors can enjoy the magnificent and breathtaking view from cliffs you'll find above this beautiful village. As this beach is being known for diving, local diving school use a shipwreck for their classes.
Miles of white sand beach and beautiful clear blue water, this hidden paradise is the perfect place for those people who are looking to spent some quiet time away from their resorts and its crowded beaches.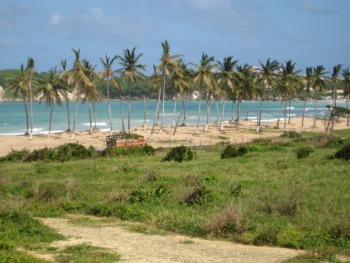 Photo:creative commons flickr-puroticorico
There are no hotels and resorts near by and that is what makes this beach even more unique.
Don't expect to find fancy beach bars because you won't.
Many Safari Tours use this beach, that is slowly being recognize among the tourists, as a stop point. You can take a few hours to explore around or just relax on the beach.
But so far it is known as a »local« beach where many Dominicans (especially at weekends) come here and relax, so this is a good chance to get to know them more.
Playa del Macao was declared by UNESCO as one of the best beaches in the Caribbean for its fine sand and beautiful palm trees.


It is the perfect place if you want to take some surf lessons. The beach is also famous for surfing because of its high waves.


Macao Surf Camp offers great surf lessons and board rentals for all ages.They have a photographer that takes photo of you which you can purchase if you like.

If you wish to stay here for few days, you can find a lot of excellent all inclusive resorts and hotels in El Macao. This fishing village is not far away from Playa Macao.
And for those willing to stay permanently, experience the ultimate Caribbean luxury residential destination, Roco Ki. Opened recently, Roko Ki is home to luxury residences, condominiums, villas and penthouses.
One small tip....
Try the famous »pescado frito«, fried fish-in english. It costs around 10$. Many locals and tourists love this dish and I'm no exception:)

Return from Macao Beach to Punta Cana Beaches

Return from Macao Beach to Punta Cana Resorts Home Page